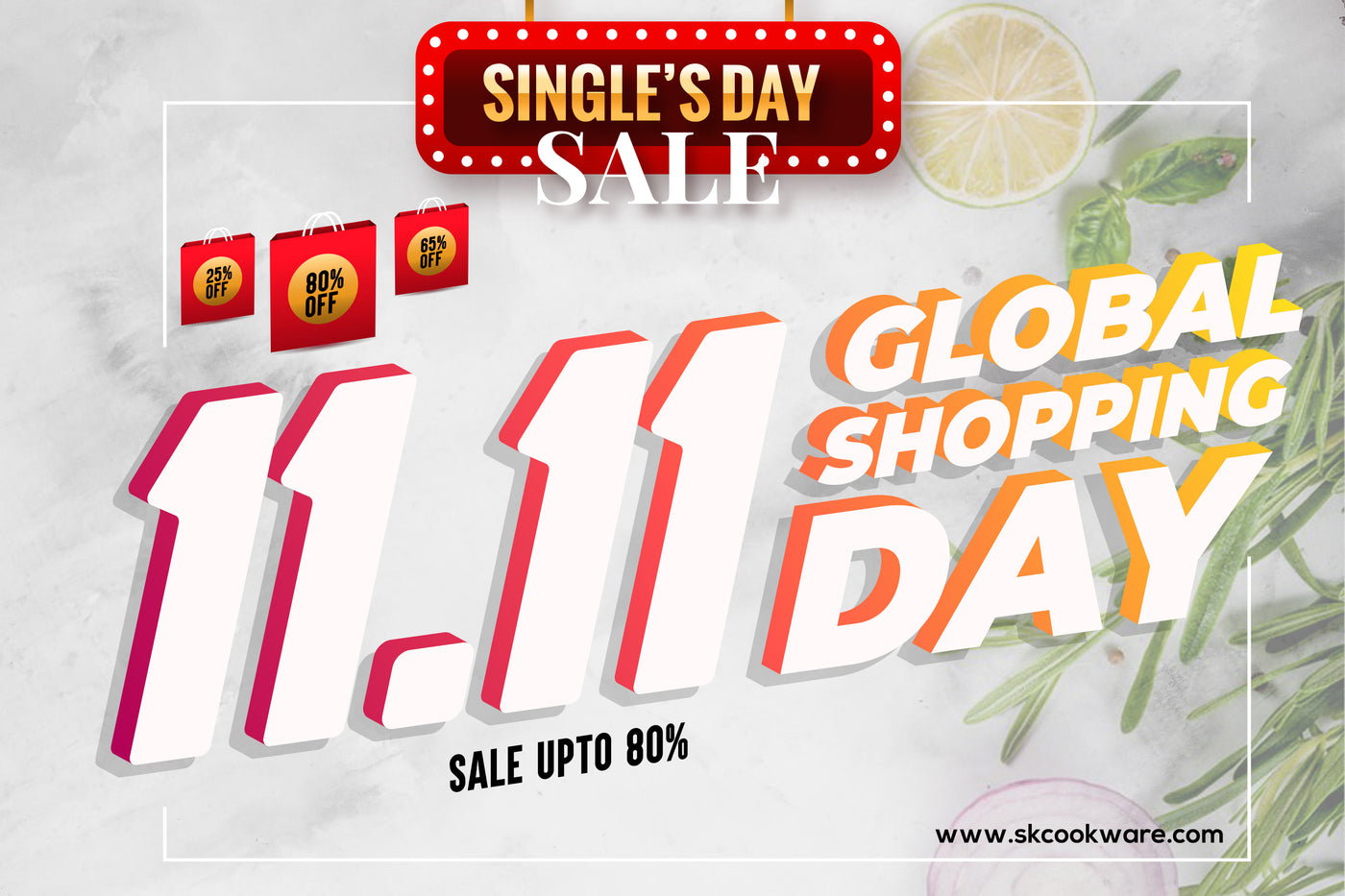 You Can't Afford to Miss 11.11 Sale on SK Cookware in Pakistan
 The 11.11 Sale, also known as Singles' Day in the globe, is a shopping extravaganza that originated in China but has since spread worldwide. In Pakistan, this day has become a shopper's paradise, with numerous brands and retailers offering jaw-dropping discounts and promotions. If you're a culinary enthusiast or simply looking to upgrade your kitchen gear, the 11.11 Sale is the perfect opportunity to do so, especially when it comes to cookware.
One brand that's making a significant splash in this year's 11.11 Sale in Pakistan is SK Cookware. We are offer a range of high-quality cookware that caters to the diverse needs of Pakistani households. From marble-coated sets to pressure cookers, we've got you covered.
Let's dive into the world of cookware and explore the fantastic deals you can snag from SK Cookware 11.11.
Marble-coated cookware is a game-changer for many home cooks. The non-stick surface is not only visually appealing with its marble-like texture but also incredibly functional. It requires less oil, making it a healthier option for cooking.
 SK Cookware's marble-coated sets are known for their durability and even heat distribution. During the 11.11 Sale, you can expect to find these sets at irresistible prices, making it the ideal time to upgrade your cookware collection.
Non-stick cookware has been a kitchen staple for years. Whether you're making an omelet for breakfast or sautéing vegetables for dinner, non-stick pans make the cooking process a breeze.
SK Cookware offers a variety of non-stick sets that can cater to your specific needs. Look out for deals on these sets during the 11.11 Sale to save big on these kitchen essentials.
Aluminum cookware is known for its excellent heat conductivity. It ensures that your food cooks evenly and quickly.
SK Cookware's aluminum sets are designed to be elite finished, making them easy to handle while providing the benefits of high-quality aluminum construction. These sets are perfect for those who demand precision in their cooking.
Anodized cookware is a popular choice among chefs and home cooks alike. It's incredibly durable, non-reactive, and resistant to sticking. SK Cookware's anodized cookware is designed to withstand high temperatures and provide exceptional heat distribution.
This type of cookware is a fantastic addition to any kitchen, and you can expect attractive discounts on SK Cookware's anodized products during the 11.11 Sale.
In addition to cookware, SK Cookware also offers elegant and durable melamine dinnerware sets. Melamine is a popular choice for dinnerware due to its resistance to chipping and breaking. These sets are not only practical but also stylish, making them perfect for everyday use or special occasions.
Look out for deals on these during the 11.11 Sale to complement your cookware collection.
Pressure cookers are a true kitchen workhorse, speeding up cooking times and infusing flavors into your dishes. SK Cookware's pressure cookers are built to last, with safety features to give you peace of mind. Keep an eye out for discounts on these during the 11.11 Sale, as they are a must-have for any kitchen.
Woks are a versatile addition to your kitchen, perfect for stir-frying, deep-frying, and even steaming. 
SK Cookware's woks are built to withstand high heat and come with non-stick surfaces for easy cooking and cleaning. 
They can be a game-changer in your Asian-inspired culinary adventures.
Casseroles are an essential part of many family recipes. They are ideal for slow-cooking stews, braised dishes, or simply keeping your meals warm and ready to serve. 
SK Cookware's casseroles are not only functional but also elegant, making them perfect for serving dishes directly from the oven to the table.
Griddles are essential for making a variety of dishes, from pancakes and eggs to grilled sandwiches and fajitas. SK Cookware's griddles are designed for even heating and easy maintenance. 
Whether you're a breakfast lover or enjoy cooking up a variety of dishes, a quality griddle is a versatile addition to your kitchen.
A good fry pan is a kitchen workhorse, from cooking breakfast staples like eggs and bacon to searing a perfect steak. SK Cookware offers a range of fry pans that are durable and easy to clean. 
Keep an eye on the 11.11 Sale for deals on these kitchen essentials.
SK Cookware's commitment to quality, durability, and innovation makes them a top choice for anyone looking to invest in long-lasting kitchen equipment. When it comes to the 11.11 Sale, this brand is certainly not one to be missed. So, how can you make the most of this year's 11.11 Sale on SK Cookware?
For health-conscious cooks, steamers are a fantastic addition to the kitchen. They allow you to prepare nutritious, flavorful dishes by gently cooking your ingredients with steam.
SK Cookware's steamers are designed to be efficient and user-friendly. You can expect to find discounts on these during the 11.11 Sale.
Tips for a Successful 11.11 Sale Shopping Spree:
Plan Ahead:
Make a list of the cookware you need or want to upgrade. This will help you stay focused and avoid impulsive purchases.
Check for Early Deals:
We offer early access to 11.11 deals. Keep an eye on SK Cookware's website and social media channels for announcements.
Compare Prices:
Don't settle for the first deal you see. Compare prices from different sources to ensure you're getting the best possible discount.
Set a Budget:
It's easy to get carried away during a sale. Set a budget and stick to it to avoid overspending.
Be Quick:
The best deals tend to sell out fast, so be prepared to make your purchases as soon as the sale starts.
Read Reviews:
Before making a purchase, read product reviews to ensure the cookware meets your expectations in terms of quality and performance. In very short time, we have win the trust of 100's of loyal customers, their reviews and feedbacks are our asset.
Check the Warranty:
Make sure to inquire about the warranty and return policy for your purchases. This will give you peace of mind in case of any issues. SK is offering no question asked money back warranty. In case of any issue while transit, their courier partner will pick the product from your home for return or replacement. This feature from SK Cookware is worth appreciating.
Stay Informed:
Join our mailing list or follow us on social media to receive updates and notifications about 11.11 Sale offers.
Remember, the 11.11 Sale is a unique opportunity to upgrade your kitchen equipment, and SK Cookware is sure to have some fantastic deals in store for you. Don't miss out on the chance to revamp your culinary experience with high-quality cookware. Happy shopping and happy cooking!